Latest News
Howard Nowes - 11/29/2010
HOward Nowes - 02/14/2011
Dar Mayers - 11/20/2012
Howard Nowes - 10/23/2014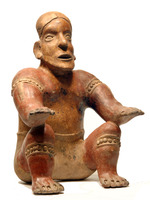 2000 years ago in Western Mexico there was a burst of artistic ingenuity that is totally unique in the corpus of art history. The ceramics produced by these now extinct cultures--and preserved in shaft tomb chambers--continue to intrigue and excite.


Howard Nowes - 08/12/2017
Please join Art for Eternity Gallery
for a celebration
of our new collection of rare ancient Mesoamerican gold artifacts.
An opening reception will be held at the gallery
Thursday September 28, 2017, from 5-8 PM
303 East 81st Street, New York, NY, 10028
---
Howard Nowes. AAA - 11/8/2017
If you are an attendee of the Appraisers Association of America conference, please join us for a lecture on Pre-Columbian art appraisal this Sunday, November 12th, at 2:30 PM, to take place at the New York Athletic Club at Central Park South.
Howard Nowes - 11/16/2017
We are proud to announce the successful completion of our lecture on Pre-Columbian art appraising at this year's Appriaser's Association of America conference this 2017 season. Topics addressed were cultural context, authenticity, patramony issues, and grading the quality of the art to determine value.

Howard Nowes - 12/15/2017
Howard Nowes - 10/10/2018
LIDAR, a once-top secret US military surveillance technology for surveying and detecting the topography of long-lost structures buried underground has now become declassified, with astounding new findings for those of us in the arts and sciences. We now know that Mayan civilization was vastly more abundant and complex than we ever previously imagined, with epic, sprawling cities, including one such city buried just beneath the top layer of the jungle in Guatemala that was home to an estimated 7 to 11 million people, matching New York City in population and density...
Howard Nowes - 05/05/2020
Ceramic figurines were the key artistic output of what are known as the 'shaft tomb' cultures of Western Mexico, and are considered the most dramatic of all ceramics produced in Mesoamerica. Unlike the Olmecs and the Aztecs, the shaft tomb cultures, which thrived from 300 BCE to 400 CE, left behind no monumental architecture or stelae, so virtually everything we know about them comes from these figures.